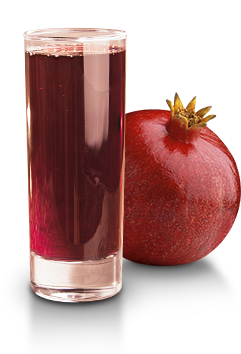 Explore Scientific Studies on Wonderful Variety Pomegranates
There are several varieties of pomegranate grown in various locations throughout the world. The following research was conducted exclusively with California-grown, Wonderful variety pomegranates.
Terms of Use
1. INTRODUCTION
Welcome to www.wonderfulpomegranateresearch.com (the "Site"). By using the Site, you agree to be bound by the following Terms of Use ("TOU"). We may, in our sole discretion, modify these TOU with or without notice to you. Please continue to periodically review these TOU when using the Site. By continuing to access and use the Site after these TOU have been modified, you are agreeing to such modifications. In addition, when using particular features on the Site, you shall be subject to any posted guidelines or rules applicable to such features that may be posted from time to time. All such guidelines or rules are hereby incorporated by reference into these TOU. This Site is continually under development. While we try to keep the information as current and accurate as possible, we make no warranty of any kind, implied or express, as to its accuracy, completeness or appropriateness for any purpose. We will make efforts to correct errors brought to our attention.
2. DESCRIPTION OF CONTENT
The Site contains completed research and studies that are intended for general education and informational purposes only. We shall not be responsible or liable for the accuracy, completeness, usefulness or availability of any information or other content, data, text, URLs, graphics, advertising or any other materials (collectively, the "Content") transmitted or made available via the Site. The Content is provided for educational purposes only, and is not guaranteed. We shall not be responsible or liable for any decisions made in reliance on the Content. The opinions and recommendations contained in this Site are not necessarily made by us or our employees. The Content is in no way intended to be medical advice or a substitute for consultation with qualified health professionals. The Content is often general in nature and may be helpful to some persons but not others, depending upon their personal needs. Never disregard professional medical advice or delay in seeking it because of something you have read on this Site. Users of this Site agree to completely absolve us and any person or company affiliated with us and our respective employees, directors, shareholders, agents and legal advisers from any liability based on information, claims or opinions contained within this Site and other websites to which it is linked. The information in the Content does not constitute labeling or advertising for any particular products or make express or implied health or disease claims.
3. PERSONAL INFORMATION
Any personal or other information you provide to us is subject to our Privacy Policy. For more information, see our full Privacy Policy.
4. THIRD PARTY WEB SITES
The Site may provide links to websites or resources outside of the Site. Because we have no control over external sites and resources, you acknowledge and agree that we are not responsible for the availability of such sites or resources, and do not endorse and are not responsible or liable for any Content, advertising, goods, services or other materials on, available through or provided by such sites or resources. Your correspondence or business dealings with, or participation in promotions of, any websites that you find or link to through the Site, including payment and delivery of related goods or services, and any other terms, conditions, warranties or representations associated with such dealings, are solely between you and such websites. You agree that we shall not be responsible or liable for any loss or damage of any sort incurred as the result of any such dealings or as the result of the presence of links to such websites on the Site. We do not endorse or approve any products or information offered at websites you reach through the Site. The Uniform Resource Locator (URL) address is provided in your WWW browser to see if you are still in a www.wonderfulpomegranateresearch.com operated site or have move to another site.
5. SUBMISSIONS
It is our policy to not accept or consider creative materials, ideas, or suggestions other than those we specifically request, such as part of any new features or services to the Site that permit you to post or submit content. This is to avoid any misunderstandings if your ideas are similar to those we have developed independently. Therefore we must request that you do not send to us any original creative materials such as images, original artwork, etc. Any communication or material you do transmit to the Site by email or otherwise will be treated as non-confidential and non-proprietary. Any Content you transmit, email, or post on the Site may be used or published by us or our affiliates for any purpose including, but not limited to, reproduction, disclosure, transmission, publication, broadcast and posting in any media throughout the world and in perpetuity without restriction or compensation to you. Furthermore, we are free to use any ideas, concepts, know-how, or techniques contained in any content or communication you send to us for any purpose whatsoever.
6. MODIFICATIONS TO THE SITE
We reserve the right at any time and from time to time to modify or discontinue, temporarily or permanently, the Site (or any part thereof) with or without notice. You agree that we shall not be liable to you or to any third party for any modification, suspension or discontinuance of the Site.
7. TERMINATION
We reserve the right, in our sole discretion, immediately and without notice, to suspend or terminate these TOU and/or terminate the Site.
8. OUR PROPRIETARY RIGHTS
You acknowledge and agree that the Site and any necessary software used in connection with the Site (the "Software") contain proprietary and/or confidential information, Content and other materials that are protected by applicable intellectual property and other laws (including, without limitation, copyrights, trademarks, service marks and patents). Except as expressly authorized by us, you agree not to modify, rent, lease, loan, sell, distribute, create derivative works based on, or otherwise use the Software, the Site or any Content contained thereon, in whole or in part.
9. DISCLAIMER OF WARRANTIES
YOU EXPRESSLY UNDERSTAND AND AGREE THAT:
a. YOUR USE OF THE SITE IS AT YOUR SOLE RISK. THE SITE AND ALL INFORMATION AND CONTENT OBTAINED THROUGH THE SITE ARE PROVIDED ON AN "AS IS" AND "AS AVAILABLE" BASIS. WE EXPRESSLY DISCLAIM ALL WARRANTIES OF ANY KIND, WHETHER EXPRESS OR IMPLIED, AS TO THE OPERATION OF THE SITE OR THE INFORMATION AND CONTENT INCLUDED ON THE SITE, INCLUDING, BUT NOT LIMITED TO THE IMPLIED WARRANTIES OF MERCHANTABILITY, FITNESS FOR A PARTICULAR PURPOSE AND NON-INFRINGEMENT.
b. WE MAKE NO WARRANTY THAT (i) THE SITE OR ANY INFORMATION OR CONTENT OBTAINED THROUGH THE SITE WILL MEET YOUR REQUIREMENTS, (ii) THE SITE WILL BE UNINTERRUPTED, TIMELY, SECURE, OR ERROR-FREE, (iii) THE RESULTS THAT MAY BE OBTAINED FROM THE USE OF THE SITE OR ANY INFORMATION OR CONTENT PROVIDED THEREIN WILL BE ACCURATE OR RELIABLE, (iv) THE QUALITY OF THE SITE OR INFORMATION OR CONTENT OBTAINED BY YOU THROUGH THE SITE WILL MEET YOUR EXPECTATIONS, AND (V) ANY ERRORS IN THE SITE WILL BE CORRECTED.
c. ANY MATERIAL OBTAINED FROM OR THROUGH THE USE OF THE SITE IS OBTAINED AT YOUR OWN DISCRETION AND RISK AND YOU WILL BE SOLELY RESPONSIBLE FOR ANY DAMAGE TO YOUR COMPUTER SYSTEM OR LOSS OF DATA THAT RESULTS FROM OBTAINING ANY SUCH MATERIAL.
d. NO ADVICE OR INFORMATION, WHETHER ORAL OR WRITTEN, OBTAINED BY YOU FROM US OR FROM OR THROUGH THE SITE SHALL CREATE ANY WARRANTY NOT EXPRESSLY STATED IN THESE TOU.
10. LIMITATION OF LIABILITY
YOU EXPRESSLY UNDERSTAND AND AGREE THAT WE SHALL NOT BE LIABLE FOR ANY DIRECT, INDIRECT, INCIDENTAL, SPECIAL, CONSEQUENTIAL OR EXEMPLARY DAMAGES, INCLUDING BUT NOT LIMITED TO, DAMAGES FOR LOSS OF PROFITS, GOODWILL, USE, DATA OR OTHER INTANGIBLE LOSSES (EVEN IF WE HAVE BEEN ADVISED OF THE POSSIBILITY OF SUCH DAMAGES OR WE HAVE BEEN NEGLIGENT), RESULTING FROM: (i) THE USE OR THE INABILITY TO USE THE SITE OR BY HYPERLINK TO OR FROM THE SITE; (ii) UNAUTHORIZED ACCESS TO OR ALTERATION OF YOUR TRANSMISSIONS OR DATA; (iii) STATEMENTS OR CONDUCT OF ANY THIRD PARTY ON THE SITE; (iv) FAILURE OF PERFORMANCE BY US; (v) ANY ERROR, OMISSION, INTERRUPTION, DEFECT, OR DELAY IN OPERATION OR TRANSMISSION OF THE SITE; (vi) RELIANCE BY YOU ON ANY MATTER OR STATEMENT CONTAINED ON THE SITE; OR (vii) ANY OTHER MATTER, ACTION OR INACTION, RELATING TO THE SITE.
11. EXCLUSIONS AND LIMITATIONS
SOME JURISDICTIONS DO NOT ALLOW THE EXCLUSION OF CERTAIN WARRANTIES OR THE LIMITATION OR EXCLUSION OF LIABILITY FOR INCIDENTAL OR CONSEQUENTIAL DAMAGES. ACCORDINGLY, SOME OF THE ABOVE LIMITATIONS MAY NOT APPLY TO YOU.
12. NOTICE
Through the Site, we may provide notices to you including, without limitation, notices of changes to these TOU or other matters by displaying such notices or links to such notices to you generally on the Site.
13. DIGITAL MILLENNIUM COPYRIGHT ACT
We are under no obligation to, and do not, scan content used in connection with the Site for the inclusion of illegal or impermissible content. However, we respect the copyright interests of others. It is our policy not to permit materials known by us to infringe another party's copyright to remain on the Site.
If you believe that your work has been copied in a way that constitutes copyright infringement, you should provide us with written notice that contains the following information required by the Online Copyright Infringement Liability Limitation Act of the Digital Millennium Copyright Act ("DMCA"), 17 U.S.C. 512: (a) a physical or electronic signature of a person authorized to act on behalf of the owner of an exclusive right that is allegedly infringed; (b) identification of the copyrighted work claimed to have been infringed, or, if multiple copyrighted works are covered by a single notification, a representative list of such works; (c) identification of the material that is claimed to be infringing or to be the subject of infringing activity and that is to be removed or access to which is to be disabled and information reasonably sufficient to permit us to locate the material; (d) information reasonably sufficient to permit us to contact the complaining party, such as an address, telephone number and, if available, an e-mail address at which the complaining party may be contacted; (e) a statement that the complaining party has a good faith belief that use of the material in the manner complained of is not authorized by the copyright owner, its agent or the law; and (f) a statement that the information in the notification is accurate and, under penalty of perjury, that the complaining party is authorized to act on behalf of the owner of an exclusive right that is allegedly infringed. All DMCA notices should be sent to [email protected]
14. ARBITRATION
The sole and exclusive jurisdiction and venue for resolving any controversy or claim arising out of or relating to the TOU or the Site shall be through binding arbitration in Los Angeles County, California, including, without limitation, any dispute with respect to this arbitration provision, any claim in tort, or any claim for violation of any federal, state or local statute, or ordinance or regulation. The arbitration shall be conducted by JAMS/Endispute ("JAMS"), whose rules applicable to such disputes shall be in force, and judgment or the award rendered by the arbitrator may be entered by any court having jurisdiction thereof. There shall be one arbitrator to be mutually selected by the parties, and if the parties cannot so select, the arbitrator shall be appointed by JAMS. The fees of the arbitrator, administrative fees, and the other fees and costs of the arbitration, including, but not limited to, the cost of any record or transcripts of the arbitration, shall be advanced by the parties to the arbitration in equal portions, and, in addition thereto, each such party shall advance the fees of its own attorneys, the expenses of its witnesses and all other expenses connected with presenting its case. THE PARTIES HERETO WAIVE THE RIGHT TO A TRIAL BY JURY IN CONNECTION WITH ANY CONTROVERSY OR CLAIM.
15. GENERAL INFORMATION
This TOU constitutes the entire agreement between you and us and governs your use of the Site, superseding any prior agreements between you and us. You also may be subject to additional terms and conditions that may apply when you use affiliate services, third-party content or third-party software. These TOU and the relationship between you and us shall be governed by the laws of the State of California without regard to its conflict of law provisions. Unless otherwise provided herein, you and we agree to submit to the personal and exclusive jurisdiction and venue of the courts located within the State of California. Any failure on our part to exercise or enforce any right or provision of these TOU shall not constitute a waiver of such right or provision. If any provision of these TOU is found by a court of competent jurisdiction to be invalid, the parties nevertheless agree that the court should endeavor to give effect to the parties' intentions as reflected in the provision, and the other provisions of these TOU remain in full force and effect. You agree that regardless of any statute or law to the contrary, any claim or cause of action arising out of or related to use of the Site or these TOU must be filed within one (1) year after such claim or cause of action arose or be forever barred.
16. CONTACTING US
If you have any questions or comments about these terms or wish to report any violations of the TOU, please contact us at [email protected]
© 2013 Wonderful Pomegranate Research. All rights reserved.
Last Updated: September 2013