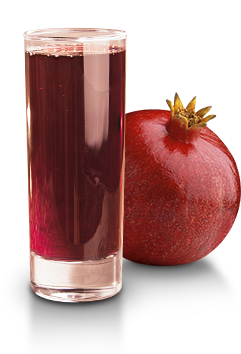 Explore Scientific Studies on Wonderful Variety Pomegranates
There are several varieties of pomegranate grown in various locations throughout the world. The following research was conducted exclusively with California-grown, Wonderful variety pomegranates.
Privacy Policy
Welcome to www.wonderfulpomegranateresearch.com (the "Site"). We want you to feel comfortable using the Site, so we have created this Privacy Policy to let you know what information we may collect from you on the Site and how we may use that information. Please take a moment to review the terms of our Privacy Policy. By using the Site, you agree to accept the terms of our Privacy Policy. If you do not agree to the terms of this Privacy Policy, please do not use the Site.
AGGREGATE INFORMATION WE COLLECT
From time to time, we may collect general, non-personal, statistical information about the use of the Site, such as visitors' IP addresses, how many visitors visit a specific page on the Site, how long visitors stay on that page, and which hyperlinks, if any, visitors "click" on. We collect this information in order to determine which areas of the Site are most popular and to enhance the Site for visitors. We may also group this information into aggregate visitor data for internal business purposes or in response to a government request. However, please be assured that this aggregate data will in no way personally identify you or any other visitors to the Site. An IP address is a number that's automatically assigned to your computer whenever you're surfing the Web, and can be used to identify your computer. However, when we collect IP addresses, we do so only in an aggregate fashion, and not in a way that will identify you personally.
PERSONALLY IDENTIFYING INFORMATION WE COLLECT
There are instances where you may provide us with personally identifying information ("PII"). The categories of PII we collect may include, without limitation, your first and last name, e-mail address, mailing address, phone and fax numbers, and general information about you. We may also collect any other information you provide us voluntarily or through your electronic communications with us. We collect PII for our internal purposes and to ensure compliance with our policies and applicable law.
DISCLOSURE OF PERSONALLY IDENTIFYING INFORMATION
We may share your PII with other companies or persons affiliated with us, and they may send you periodic communications that we believe will be of interest to you. As we develop, we may buy other businesses or their assets or sell our business assets. Customer information is generally one of the business assets involved in such transactions. Thus, in the event that we or all of our assets are acquired, customer information would be one of the transferred assets. Finally, we reserve the right to disclose visitor information to applicable authorities in special cases when we have reason to believe that disclosing this information is necessary to identify, contact or bring legal action against someone who may be causing injury to or interference with (either intentionally or unintentionally) our rights or property, other visitors, or anyone else that could be harmed by such activities. This includes our right to exchange information with other organizations in order to protect against fraud and to reduce credit risk. We also reserve the right to disclose visitor information to applicable authorities when we believe in good faith that the law requires it.
COOKIES
Cookies are pieces of information that a web site transfers to an individual's hard drive for record-keeping purposes. Cookies make web surfing easier for you by saving your preferences while you're at the Site. The use of cookies is an industry standard - you'll find them at most web sites. By showing how and when visitors use the Site, cookies help us see which areas are popular and which are not. Information such as the total number of visitors and pages viewed is most easily tracked with cookies. We may use the information from cookies to make improvements and updates to the Site and to tailor our Site to our visitors' needs. You always have the option of disabling cookies using your browser preferences. Most browsers are initially set up to accept cookies. You can reset your browser to refuse all cookies or indicate when a cookie is being sent. However, please be aware that some features of the Site may not function properly or may be slower if you refuse cookies. You may occasionally get cookies from our advertisers. We do not control these cookies. The use of advertising cookies sent by third-party servers is common in the Internet industry.
LINKS TO OTHER SITES; "PUBLIC" AREAS
Please be aware that when you are on the Site, you could be directed to other sites that are beyond our control. There are links to other sites from the Site's pages that take you outside our Site. These other sites may send their own cookies to visitors, collect data or solicit personal information. The privacy policies of these other sites may be significantly different from this Privacy Policy. We are not responsible for the privacy practices of these other sites and cannot guarantee the security of any of your personal information collected there.
SECURITY
Protecting the security of your personal information is very important to us. However, no data transmission over the Internet can be guaranteed to be 100% secure. As a result, while we strive to protect your personal information and privacy, we cannot guarantee or warrant the security of any information you disclose or transmit to us online or by email and cannot be responsible for the theft, destruction, or inadvertent disclosure of your personal information.
PRIVACY POLICY FOR MINORS
We do not knowingly collect information from minors. If you are under 18, please do not provide any personal information to us.
CHANGES TO THESE TERMS
The terms of this Privacy Policy may change from time to time without prior notice to you, so please check this page periodically for any changes. Your continued use of the Site following the posting of changes to these terms will mean you accept those changes.
QUESTIONS
Any questions that you may have regarding this Privacy Policy should be directed to [email protected]
© 2013 Wonderful Pomegranate Research. All rights reserved.
Last Updated: September 2013